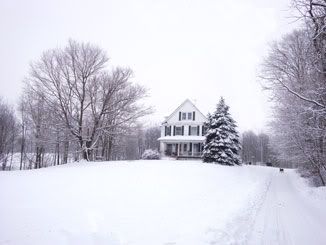 It's become clear to me that any self-respecting property larger than a postage stamp has to have a name. The internet is full of people who had the imagination and foresight to call their residence something more than "random number assigned by government body on County Road 422." Just a few of the lyrical pretties I've stumbled upon: "Spring Thyme Farm," "High Hopes Farm," and "High Winds Ranch."
I have long wanted to name our own meager acreage but have been stumped by the sense that we have exactly 12 acres and no livestock save a few goats, dogs, and some (human) kids. I fear being "all hat, no cattle" as they say about pretentious urban farm types.
Always willing to throw someone ELSE under the bus, I figured that Mr. Wonderful did grow up on a farm and thus he has the street cred (field cred?) to name a place if he wants.
What he wants, of course, is to be left alone.
I say
"Honey we should name our house!"
He says "
it has a name, I call it "home."
My top choices are "Muddy Lane" or "Long Lane" (our home sits down what natives to the region call a long dirt "lane" (that would be driveway to you and I).
I'm leaning toward the latter because every single native type person has said the same thing when I explain where we live. I give lots of really great directions such as
"it's kind of far past the red barn but not the BIG red barn, the smaller one, and the kind of blue-green house that needs painted. It's on the right. Except if you are coming from the other direction, then it's on the left."
I can't imagine why they don't find us.
Invariably they finally track us down, probably losing a portion of their vehicle's undercarriage along the way, to say, exasperated, "
Why didn't you just SAY you live down the long lane?
"
So now, just in the space of this blog post, I think I'm simply going to replace "I do?" with "I do!"
"Long Lane." It's pretty right? Not too pretentious since it's true?
Granted, Long Lane can be both a lovely visual image, or a good name for an insane asylum.
Either way, we're good.
I'm linking this up on Farm Friend's Friday in hopes some savvy rural types can lend me a hand - or at the very least stop me from making a fool of myself down at the feed store ...